Optomap Retinal Imaging at The Center for Eye Care and Optical
Eye exams and vision screenings can help you preserve your eyesight by detecting a variety of issues that might require care, including diseases and injuries that affect the retinas. If you've had a comprehensive eye exam before, you may know that the pupil dilation is traditionally needed to get a detailed view of the eye's interior, which has a few drawbacks. Fortunately, new technology has made even this part of the exam quick, easy, and comfortable. You can experience this advance in technology for yourself by undergoing Optomap retinal imaging here at The Center for Eye Care and Optical in West Islip, NY.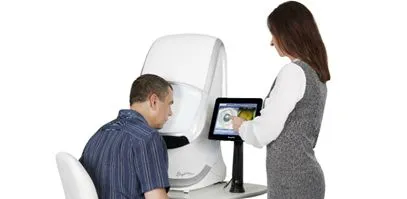 A Critical Part of a Comprehensive Eye Exam
In addition to vision screenings to check your eyesight and surface examinations of the external parts of the eye, ophthalmology clinics must also look deep inside the eye. This evaluation allows the eye doctor to look for many potential problems that affect the light-gathering tissues of the retina and optic nerve. A detailed look at these tissues can reveal the presence of:
Glaucoma, a progressive disease that damages the optic nerve fibers to cause permanent vision loss
Blood vessel leakage or other damage related to macular degeneration, diabetic retinopathy, or hypertension
Injuries such as retinal detachment which may require immediate medical treatment to prevent blindness
The Optomap Advantage
Traditional retinal exam techniques involve first dilating the pupils of the eyes with topical medication. While this permits a clearer interior view, it only allows for a 45 degree angle that reveals a mere 15 percent of the retina. Even this limited view comes at a price. The eye drops that create the dilation may prove uncomfortable, while the effect may last for hours, making you painfully sensitive to light.
Optomap retinal imaging eliminates these shortcomings. Instead of chemically dilating your pupils, our ophthalmologist at our clinic simply has you place your chin in a special photographic machine. As you gaze into a viewer, the machine emits a bright but brief flash of light, making a detailed, full-color photographic image of the eye's interior. This image spans a 200-degree angle that reveals over 80 percent of the retina. It also provides an instant digital record that your ophthalmologist can share with you and keep on file.
Contact Our West Islip, NY Ophthalmology Clinic
Your eyes matter too much to settle for limited, old-fashioned eye exams and vision screenings. Call The Center for Eye Care and Optical at 631-422-1110 to schedule an Optomap retinal imaging appointment in Islip, NY!