The Center for Eye Care and Optical has a full line of surgical and non-surgical cosmetic services available. We have a board-certified oculofacial plastic surgeon who provides our customers with the best in aesthetic and oculoplastic services.
Dr. Alexander Rabinovich is a board-certified ophthalmologist who specializes in surgery of the eyelids, orbit, and lacrimal system, as well as facial cosmetic surgery and cosmetic injections such as Botox and facial fillers.
Alexander Rabinovich graduated with honors from Binghamton University with a Bachelor of Science degree in Biochemistry and received his Medical Doctorate degree from Upstate Medical University in Syracuse, NY. He did his surgical transitional year at Flushing Medical Center and then completed his ophthalmology residency training at St. Luke's-Roosevelt Hospitals in NYC, where he served as a chief resident in his last year of training. He then completed his Ophthalmic Plastic and Reconstructive Surgery fellowship at Boston Medical Center in Boston, MA.
Dr. Alexander Rabinovich is a member of American Academy of Ophthalmology and has presented his clinical research at various ophthalmological meetings. He is also presently involved in resident education at New York Eye and Ear Infirmary.

NON-SURGICAL COSMETICS
BOTOX
Botox is a n injectable agent used to temporarily diminish or eliminate lines and wrinkles on the face by relaxing underlying facial muscles. It is derived from botulinum toxin type A, a bacterium-produced neuromuscular toxin that can be deadly in a pure state. BOTOX® Cosmetic contains a highly diluted form of the toxin and has been proven safe. For this reason, the U.S. Food and Drug Administration (FDA) has approved BOTOX® botulinum toxin treatment for alleviating lines around the mouth, nasolabial folds, eye-muscle disorders, and smoothing frown lines, and smile lines. Injections of Botox are often used in conjunction with facial plastic surgery procedures such as a facelift or eyelid lift to maximize its cosmetic benefit.

Dr. Rabinovich will inject a tiny amount of Botox into the facial muscles using an ultra-fine needle. The Botox blocks the impulses into the facial muscles from the nerve, gradually relaxing the muscles. This allows the skin to become smooth and wrinkle-free. There is no downtime with the procedure, and you can see improvements within days. You can see full results in two weeks and the effects last up to four months.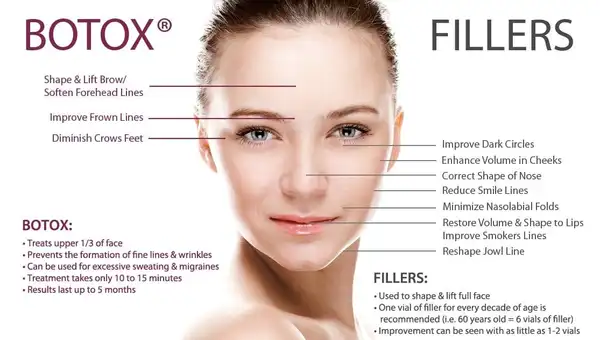 FACIAL FILLERS
Facial fillers are minimally invasive procedures that plump up thinning lips, soften contours.
As our skin stretches with age, the face loses volume. Fillers are a good option to temporarily add volume to the skin, making skin appear smoother. There is no downtime and the results can last for up to a year.
SURGICAL COSMETIC AND RECONSTRUCTIVE PROCEDURES
BLEPHAROPLASTY

A blepharoplasty is surgical procedure to enhance the look of the upper and/or lower eyelid by reducing sagging skin below the eyes as well as eliminating fat deposits in the eyelids.
With age, eyelids stretch, and the muscles supporting them weaken. As a result, excess skin and fat can gather above and below your eyelids. This can cause sagging eyebrows, droopy upper lids and bags under the eyes.
RECONSTRUCTIVE EYELID SURGERY FOLLOWING CANCER REMOVAL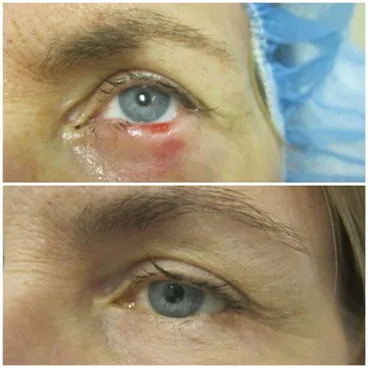 Surgery for removal of eyelid cancer requires a two-stage approach.
The First stage is called Mohs surgery which is microscopically controlled surgery performed by specially-trained dermatologists. During the surgery, after each removal of tissue, while the patient waits, the surgeon examines the tissue specimen for cancer cells, and that examination gives the information where to remove tissue next. The surgeon performing the procedure is also the pathologist reading the specimen slides. This allows for the removal of all skin cancer cells with smallest possible amount of tissue removed and a high cure rate.
The Second stage is reconstruction of a resulting skin defect performed by an oculoplastic surgeon either on the same day or within a few days of original cancer excision. The cure rate with Mohs surgery cited by most studies is between 97% and 99.8%.
For more information and images on services that Dr. Rabinovich specializes in click the link below.
Further Services
Besides cosmetic and oculoplastic services, we provide a wide range of general and specialized eye and vision care services. Our facility is equipped with the latest in retinal imaging technology, and an onsite optical store.
If you need more than just an eye exam or a pair of reading glasses, our team at The Center for Eye Care and Optical have years of knowledge and experience providing residents of West Islip, NY, with the most comprehensive optical care possible, including:
Eye Exams: You will need routine annual eye exams to measure changes in vision and eye health.
Vision Screenings: We typically perform this exam on children and young adults who are still developing. These are less involved than an eye exam but are an excellent way to identify undetected vision problems.
Cataract Surgery: The likelihood of developing cataracts increases with age. Vision is impaired as the eye's lens becomes cloudy. Surgery is the only permanent treatment.
Optical Shop: We have frames and specialty eyewear such as prescription sunglasses, scratch-resistant lenses, transition lenses, and contact lenses. Our optical professionals will help you select the perfect pair of glasses based on your eye health and personal style preferences.
Ophthalmology Services in West Islip, NY
For more information or to schedule an appointment, call The Center for Eye Care and Optical at (631) 422-1110.